Description
FEATURING THE POWERFUL APV CLASS RATING SYSTEM!
 Arthur Stanley's
MORE HORSEPOWER by Michael Borowitz (hardcopy)
A great majority of handicappers resist the notion that thoroughbred handicapping is an orderly process based upon fundamentals. They steadfastly refuse to learn these fundamentals. They prefer instead to look for shortcuts and the proverbial "quick fix". They lose steadily and win rarely. But even a blind squirrel will eventually find the acorn!
There are no angles that can't stand up to mathematical scrutiny in MORE HORSE POWER. This is not some new mechanical system that produces cheap claimer favorites at a ridiculous 10% win rate. There is no tote board reading. There is no situation handicapping involved! THERE IS NO RATING SYSTEM!
MORE HORSEPOWER is an incredible combination of readily available racing information, unique handicapping fundamentals and the horse racing experience of Arthur Stanley. With the help of author and Gambler's Emporium CEO Michael Borowitz, the two have created a method so simple it is amazing absolutely no one has ever thought of it before. Something so easy to use, you or anyone, regardless of what they know about horse racing…can easily win up to thousands per week just by implementing 3 fundamental handicapping rules with a unique "catch". Applying them properly will flag live horses whose recent form has hidden their true condition. We call Arthur's unequaled combination of these axioms the "ABC'S of Racing". These rules aren't new, Arthur's concept of their evaluation is!
Specifically, MORE HORSEPOWER'S winning concept is a professional 3 step orderly process of thoroughbred selection based on the clever and effective combination of our 3 basic fundamentals of handicapping devised to reveal what's hidden in the standard past performances. If you already know them you have a head start on winning. If you don't, MORE HORSEPOWER will easily and more quickly teach them to you, as only a strategy by Arthur Stanley can. And, most importantly, precisely instruct you on how to apply them correctly and profitably.
YOU DO NOT HAVE TO BE A BLIND SQUIRREL!
MORE HORSEPOWER is truly an incredible book of knowledge…the racing knowledge of Arthur Stanley! Using his unique concept of readily-available performance data evaluation (92 pages of it), MORE HORSEPOWER was carefully constructed to generate a high percentage of winners for any class of race, surface, or distance.
HOW WAS MORE HORSEPOWER CREATED?
MORE HORSEPOWER is a natural and logical handicapping process created to result in the direct evolution of the winning horse. MORE HORSEPOWER'S development was greatly influenced by its predecessors including Arthur Stanley's ENERGEX and the EXPLOSIVE HORSE.
The EXPLOSIVE HORSE strategy utilized recovery times in relation to previous race peaks in order to predict a once-in-a-lifetime explosive effort for 2YO, 3YO and 4YO horses only. The ENERGEX system focused on last race running lines that signaled hidden conditioning for a next-time-out win. Astoundingly, MORE HORSEPOWER will show you how to pick even more sharp horses…..but at any age. These horses will be keenly on-the-engine…..and ready to run!
In order to develop this block-buster strategy, we have used all the essential elements from each of Arthur's previous systems including the acknowledgment of the importance of layoff recovery and the crucial impact of last race running line characteristics. MORE HORSEPOWER also gives class the strong consideration it demands. A proven and tested bankrolling strategy was created to specifically maximize the strategy's high win and place percentage while, at the same time, minimizing excessive loss exposure.
The over-all result is a powerful and sensible blend of critical handicapping elements culminating in the selection of the winning horse. The simplicity of strategy application and the small bankroll requirements allow the user to make a large amount of daily plays, all with a steady and consistent win rate. MORE HORSEPOWER will become your personal "Handicapper's Survival Kit". In other words…
 WHAT KIND OF RESULTS CAN YOU EXPECT?
AVERAGE WIN …….$14.82
RATE OF WIN………..43%
AVERAGE PLACE…..$7.10
RATE OF PLACE……..57%
WE TESTED IT FOR 100 GRUELING RACES OVER 20 DAYS!
Claiming, Allowance, and Handicap races run on dirt, turf and synthetic surfaces at both sprint and route distances served as our examples. We collected on 43 win bets ($14.82 average win price) and 57 place bets ($7.10 average place price). Some of our place payoffs were at huge prices (See Sample 4).
We included lowly $4000 claimers at Finger Lakes together with the $600,000 Stephen Foster Handicap winner at Churchill Downs, and all classes of races in between. Our track coverage included races at Laurel, Lone Star, Oaklawn, Woodbine, Philadelphia Park, Aqueduct, Monmouth, Belmont, Hollywood, Golden Gate, Delaware, Churchill, Finger Lakes, Thistledown, Arlington, Mountaineer, Colonial, and Charles Town.
North, south, east, or west. If the track was running, we played there. MORE HORSEPOWER picks longshots at every distance, on any surface, and at any track. MORE HORSEPOWER is a theoretically valid system for horse racing, so simple… A CHILD CAN USE IT!
Play it anywhere… no need for track odds… no need for last minute decisions… but most importantly…
YOU DON'T NEED ANY SPEED FIGURES!
The new "MORE HORSEPOWER" is completely different. This is not a typical method for playing the races. The strategy you will learn is based on solid handicapping principals and is directly related to common racing information readily available at hand! Without giving the secret away, we can tell you that these fundamental handicapping procedures, when implemented as instructed, will produce exceptional results….our 30 Sample Races will PROVE IT!
 Look at this chart from ARLINGTON very closely. Would you immediately eliminate #7-Laugh from contention?
We think not. However, the ABC'S of MORE HORSEPOWER would instantly classify Laugh as a throw-out!
How about #6-Palo Duro Canyon? The uninformed player would think the powerful last race would rate him as a sure contender. Again, the ABC'S will say toss!
And #8-Show Your Face recently finished 2nd in a similar claiming race. He was a morning line contender at odds of 9:2. Our knowledgeable players would instantly eliminate him despite his past performance.
The fact is, every other horse in this race, except the winner Doublefour, was disqualified and rated as unfit and out of condition by the rules of MORE HORSEPOWER!
MORE HORSEPOWER includes 30 charts similar to this one. The in-depth analysis of these races includes over 300 descriptive comments covering each horse in each race. After one review of these samples, you too will be ready to select high-priced sharply conditioned winners just like a professional, both easily and consistently.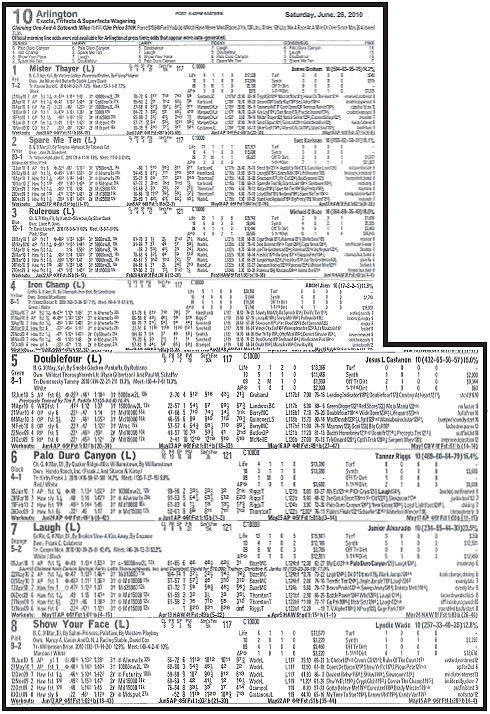 | #5 | Doublefour | Castanon J L | 118 | $20.20 | $8.80 | $4.00 |
| --- | --- | --- | --- | --- | --- | --- |
| 3 | Rulerous | Blaze M C | 121 | | 11.40 | 4.80 |
| 7 | Laugh | Alverado J | 121 | | | 2.10 |
WILL MORE HORSEPOWER WORK FOR YOU?
The question is always the same: So if it works for a professional like Arthur, what about me? That is a reasonable question and well worth an answer. An early release of MORE HORSEPOWER a few months ago, to a handful of racing buffs and betting professionals, generated these exciting comments. From what these horse players say, we believe MORE HORSEPOWER can turn any racing fan, regardless of their experience, into a BIG WINNER!
We will be waiting for your letter of praise when you start using the incredible…. MORE HORSEPOWER!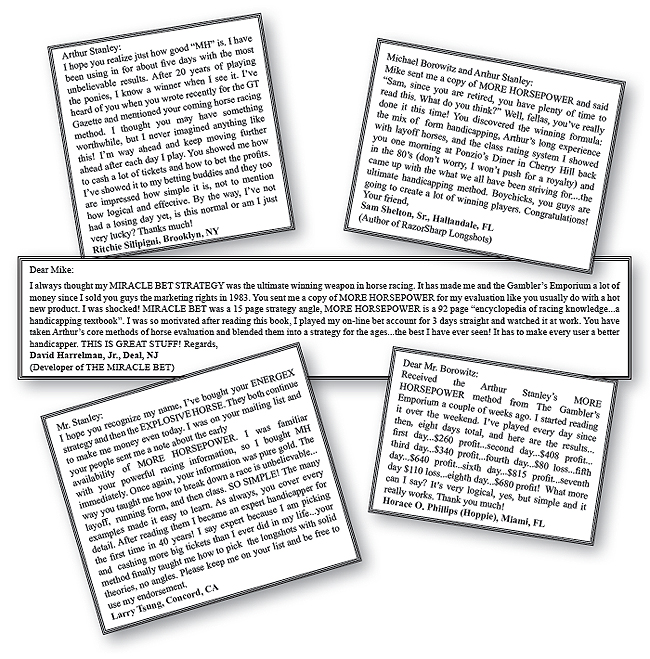 Many of you probably have been playing the races for years without regular success. Do you want to finally learn how to pick winning races on a consistent basis? It doesn't matter what your experience is! It doesn't matter how long you have been playing the horses… or even if you've never played before. If you take the time to learn the 3 critical fundamentals of handicapping, we call them the ABC'S, you can win steadily at the track for as long as you desire to play.
Arthur, the master of layoff recovery, will teach you how to accurately assess the ability of each horse in the race. You will understand why the ultimate choice will always be sharp, fresh, able and ready to dominate at today's class level. Multiple contenders, although rarely encountered with this method, are effectively and accurately separated using Arthur's "APV" analysis, a an in-depth methodology described and illustrated in great detail and developed expressly for this situation. Conversely, the remaining horses not meeting our comprehensive form and condition standards will be discarded as throw-outs as a result of MORE HORSEPOWER'S clear and mathematically proven handicapping parameters.
Read the concise breakdowns of the 30 race samples included in the book. You will see the astounding strength of the MORE HORSEPOWER concept for yourself. Every entry in the race is discussed and explained in great detail. The strategy's simple application will soon have you targeting sharp horses just like a heat-seeking missile. It is designed to ensure that you know exactly what you are doing every step of the way. It's accurate selection process will force-feed you the winner time and again. Applying this new knowledge on practice races will bolster your confidence to select on-the-engine horses "ready to romp" …on a high percentage basis. All of this will be accomplished in about five minutes of handicapping time per race. And when these hot horses you have chosen run, the results will be substantial….. WE GUARANTEE IT!
What is the cost? Get your 92 page issue of "MORE HORSEPOWER" for the SPECIAL PRICE of $70.00 (previously $125)
The cost for MORE HORSEPOWER is $70.00  (regularly $125)