Description

USES LAST RACE RUNNING COUPLED WITH TRAINER'S OBVIOUS INTENT!
GENERATES BOXCAR PRICED LONGSHOTS!
THE MOST POWERFUL MECHANICAL SYSTEM ON THE MARKET!
ENERGEX by Arthur Stanley
Dear Handicapper…
My name is Arthur Stanley. As many of you who have bought my thoroughbred racing strategies or have read the Gaming Master's Newsletter know, my background in racing includes over forty years as an owner/trainer and thoroughbred handicapping author. But, I am first and foremost a professional horseplayer!
Now that we have got my resume out of the way, let me ask you a question. Would you like to know the most powerful single handicapping angle I use in my day-to-day play?  After all, in 150,000 races or so, you would think this railbird would have developed a special 'pet' move. One that can be relied on as a personal bankroll builder! One that has produced winners for years…over and over again! The one 'go to when all else fails' play. Well, I do have such an angle and it is only available exclusively thru the GAMBLER'S EMPORIUM. We have named this play ENERGEX ….and you will shortly see why.
My ENERGEX technique exposes situational racing irregularities…explosive moves that immediately produce high-priced winners when my identification secrets are revealed. These moves are so subtle that it took me over two decades to decipher them. But once the technique is revealed, even your disinterested wife can pick winners with ease! Once learned, you will not readily give the ENERGEX secret away. It is so strong that you will use it as your personal go-to method every time you play.
So, you may ask, why have you not offered ENERGEX before? After all, you are in the handicapping business. My reason….. the low infrequency of its unique tell-tale pattern. Plays appear on an average of only once or twice in a nine race card. This is very little daily action for the standard one track player. But now there is simulcasting and OTB!
ENERGEX produces winners at any track under any conditions. ENERGEX wins on the dirt, in the slop, or on the turf. It wins at sprints or routes. It wins in Maiden, Claiming, Allowance, or Stake Races. It wins after layoffs or short rest. ENERGEX just wins  You want to see what ENERGEX can do?
Check this result out. ENERGEX will explain this selection in great detail: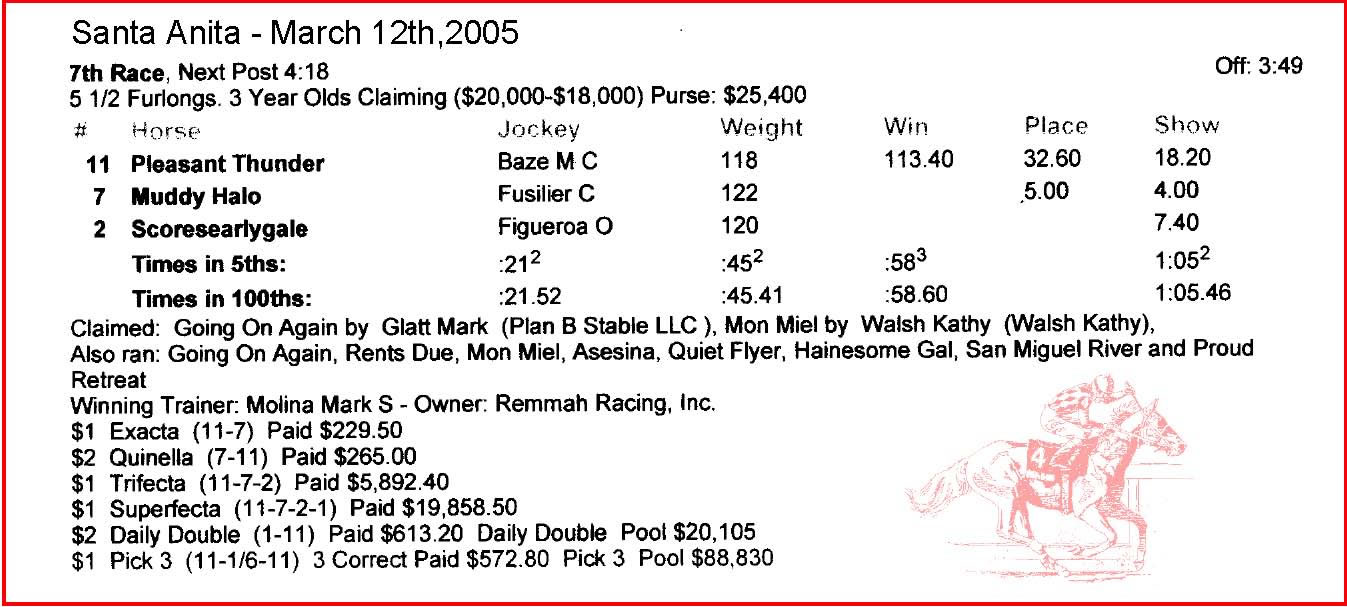 ENERGEX will give you winners without tedious hours of handicapping.
There are no computations. Racing times or speed figures are not involved. The only requirements are the past performance charts found in the Racing Form or in simulcast programs providing chart data by Equibase.
You can play this method even if you are a newcomer to horse racing…it is simple but extremely effective. Yes, you can bet the races ten minutes after studying the ENERGEX METHOD!
But don't bet a red cent until you see for yourself how readily it wins. Test it for as long as you like. We want you to try it in any type of races and under any conditions. You will then have proof of its power before ever betting a race ! See the winners…see the prices….(look at these payoffs and see what I mean)...then go pick some longshots yourself.
ENERGEX crushed this race! I will show you how: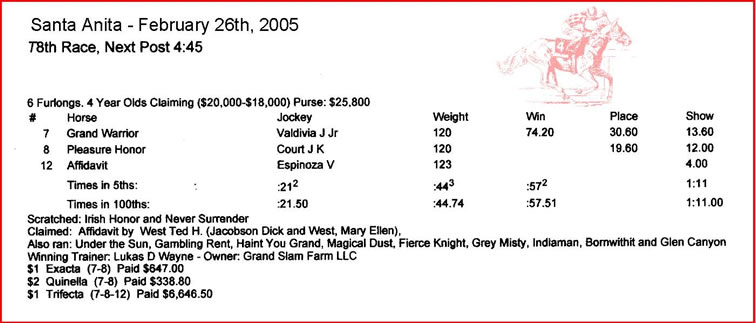 I will send you 23 recent race charts as examples. All with winning ENERGEX plays at 7:1 or better. Most are much better. All of the charts are fully explained. You will easily grasp the concept in minutes and be ready for the races immediately. Check ENERGEX for as many races as you like. Send it right back if what I say is not true. There is absolutely no risk to you.
Once you understand the concept of ENERGEX, you will see how frequently this irregular 'move' appears on a daily basis. Check every entry in every simulcast race offered in the Racing Form's past performances for potential ENERGEX plays. And as practice, you can also use these same charts to spot previous winning plays in the prior races on the chart. You will be astounded at the number of past winners ENERGEX produces…..and at monster mutuals!
Look at this payoff. Both horses were ENERGEX plays. Play ENERGEX and you will see why you would have had this whopper: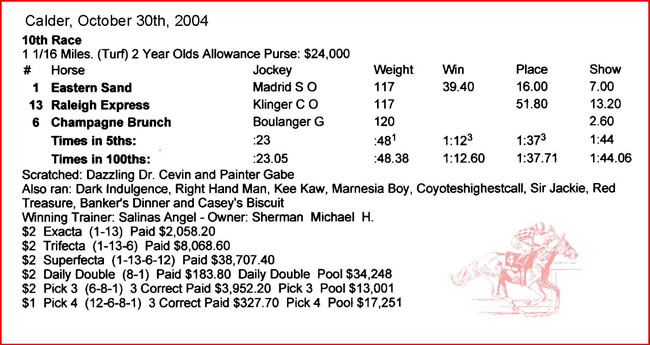 ENERGEX is prolific in producing a multitude of winners at the highest of prices . How and when you bet the selections is entirely on an individual basis. ENERGEX will produce the winners. Include the pick in your trifecta, key it in your exacta, play them to win…it's your choice. I will include my basic ENERGEX betting criteria, established over years of implementation, for your reference. I will explain when to bet the ENERGEX play, and when to pass. And why it wins and why it doesn't. The bottom line of my wagering strategy is the rate of return. My selective bet management technique will increase your win rate proportionately.
We are offering the ENERGEX METHOD for the price of $80. You can and will recoup this amount with a $5 Win bet! And, as an added incentive, we will include the 'DOUBLE ENERGEX PLAY'. Although rare, this is absolutely the best bet in racing with the highest probability of winning.
Practice with old Racing Forms at home. Learn how to define racing condition with a certain running line "quirk". Witness the power of ENERGEX before wagering any money!
Prior knowledge of race handicapping will only help the user to win MORE.  This is a must-use strategy for all simulcast players. I am certain all ENERGEX users will employ this play…..as I have ….for as long as they handicap the horses.
Astound your friends with these high-priced selections.
They will forever ask "how in the world could you pick that horse"? And you will smile. ENERGEX is how!
 The cost for ENERGEX is $60.00   (Regularly $100)