Description
A CLASSICAL HANDICAPPING STRATEGY 
Provides the basic methodology of  "THE FORMULA" 
 NEW…LATEST EDITION FEATURING THE POWERFUL APV CLASS RATING SYSTEM!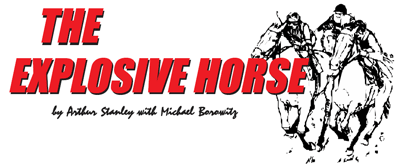 Dear Racing Fans:
My name is Arthur Stanley and my business is thoroughbred handicapping. Many of you are familiar with my books and strategies and others are clients of my selection service. Most of you have read my racing columns and numerous magazine editorials. I have been a handicapper and Owner/Trainer for over thirty years and during that period I have answered hundreds questions on racing. Today, I have some pertinent questions to offer you:
1. If someone could show you a method of handicapping (not a mechanical system or strategy) that is both sophisticated in nature yet simple to apply and this methodology produced documented, astounding results…..would you be interested?
2. Are you tired of the "one shoe fits all" handicapping approaches with their baseless selection parameters?
3. Do you have the willingness to spend less than 10 minutes in order to handicap a race using readily available data input and common sense handicapping procedures?
If your answer is yes to these questions…. my EXPLOSIVE HORSE methodology is for you. Let me tell you more about the EXPLOSIVE HORSE ...
THIS IS A CONCEPT THAT HAS NEVER BEEN PUBLISHED BEFORE!
The key elements of this strategy….the Peak Race, the Forging and Explosive Horses, Recovery Conditioning… are unique, the theory developed from years of in-barn training experience.
Remember, the racing public uses all of the same available handicapping data. And handicappers generally process this information in the same manner. The results are likewise the same…..they don't make money with their systems.
The EXPLOSIVE HORSE processes this data in a manner like you have never seen beforeI I will show you how to use this information to make money… BIG MONEY. How about a ROI for the last 5 years of $1.81? This is a direct result of the uniqueness of the strategy. And don't worry, the system will produce 10-12 powerful selections on 3 or 4 cards daily with a non-tedious approach that you will enjoy using.
It spots hot 2, 3, and 4YO's ready to run their biggest race of their lives to date. There is a reason why my selection service never gave out a pick older than a 4YO. The EXPLOSIVE HORSE will show you this reason.
The following chart is a perfect example of a forging explosive 3YO. Would you bet this 3YO filly to run the biggest race of her life the next time out? For the EXPLOSIVE HORSE user, her running line clearly indicated she was primed for a maximum explosion… and she did just that. She won the race handily.

THIS METHOD IS SIMPLE TO APPLY… IT IS NOT TEDIOUS …
This method is perfect for simulcast wagering. Each race will take 5-10 minutes to handicap.
I LEAVE ABSOLUTELY NO CHANCE FOR FAILURE. I will show you precisely how to select the EXPLOSIVE HORSE …
Look at the chart of 4YO NINE PATCH. Would you have made a major wager on this horse to win his next race? With the knowledge I will give you, this chart would be the ideal running line of a young, healthy, and superbly conditioned EXPLOSIVE HORSE – ready to pop. To the untrained eye, he looks like an average horse with one win to show for his lifetime. He scored easily.

The EXPLOSIVE HORSE includes 28 similar selections taken from recent running charts with specific comments detailing how to precisely apply the strategy. Each will take only seconds to review. The power of the technique will become apparent in minutes. After an hour of review, you will be rushing to purchase tomorrow's edition of the Racing Form…..the EXPLOSIVE HORSE is that hot.
We had a renowned professional horse handicapper and gaming strategy developer review the methodology recently, just to be sure it was as successful for him as it is for us. I gave him no training… nothing but the book… Look what he had to say: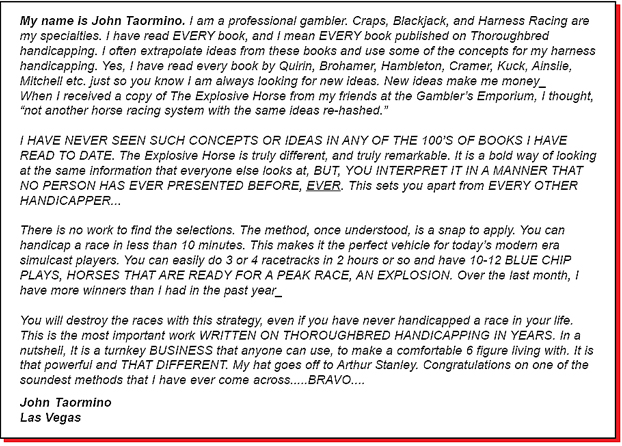 The EXPLOSIVE HORSE is not a report, it is a fact-crammed 26 page how to book on picking winners.. It will become your own race track survival manual. The EXPLOSIVE HORSE covers the following topics in great detail:
The PEAK RACE
GOOD PEAKS vs BAD PEAKS
RECOVERY GUIDELINES for 2, 3, & 4YO's
ADVANCED RECOVERY GUIDELINES FOR 4YO's
FORGING HORSES
EXPLOSIVE HORSES
DEVELOPING THE EXPLOSIVE SPEED FIGURE
EXPLOSIONS ON DIRT AND TURF
28 HANDICAPPING CHART EXAMPLES with in-depth explanations
18 MISCELLANEOUS HANDICAPPING TIPS for EXPLOSIVE HORSE USERS
My EXPLOSIVE HORSE concept centers on two handicapping critical paths:
THE PEAK RACE.

The EXPLOSIVE HORSE utilizes elements of THE PEAK RACE as a significant analytical tool. The handicapping ramifications of THE PEAK RACE will prove astounding. Sharp handicappers must know the important differences between good and bad peaks and how they heavily reflect on a horse's ultimate big race performance. You have never seen this approach before. The EXPLOSIVE HORSE will give you this information.
2. CONDITION RECOVERY is the main timing element for big race readiness and is explained in extensive detail. Who better to talk about recovery parameters than a trainer with over thirty years of experience? A trainer who now handicaps races for a living.
We will discuss how recovery time specifically impacts the racing development of both the "forging" 2 & 3YO horses and the "explosive" 4YO's.
And finally, you will:
a. Learn what "recovery" is and what its handicapping implications are.
b. Become aware of what "red flags" are raised when a horse enters the recovery conditioning period.
c. Know what the recovery time guidelines are and how to effectively employ them for the ultimate handicapping score.
Once the basic elements of THE PEAK RACE and CONDITION RECOVERY are understood, the player will have the ability to identify the "forging" 2 & 3YO's and the sharp 4YO horses primed for explosion. This information will also include when this race will occur and what projected speed figure this winner will be expected to run.
The EXPLOSIVE HORSE is so powerful in nature and its application format so easy to employ, you will be shocked with its documented conclusions. You will want to play immediately!
IT WILL CHANGE YOUR APPROACH TO HANDICAPPING FOR LIFE!
I GUARANTEE you this info will make you a master of the art of explosive horse handicapping…. and quickly.
On this note, I hope to hear from you soo
Arthur
The regular cost for the book is $100.00.   NOW….$70